CACI Synergy Facial (60min)
£69.00
Renowned for its non-surgical facelift, CACI Synergy uses patented micro-current technology to re-educate and lift the muscles of the face and neck as well as target the main visible signs of ageing. Treatment covers whole face including jowl area.
Purchase a course of 6 and save 10%
Course of 10 £620.00
CACI Synergy Ultimate Facial (85min)
£86.00
Includes everything in a CACI Synergy Facial, plus an ultra-sonic peel to deeply exfoliate and a soothing, hydrating facial mask.
Purchase a course of 6 and save 10%
Course of 10 £775.00
CACI Lifting & Cellulite Treatment (25mins)
£34.00
Using the famous CACI Electro-Cellulite massager, this treatment is designed to improve circulation and help breakdown fatty deposits on the upper leg and buttocks area. It helps to improve circulation leaving you with a smoother and firmer appearance.
Purchase a course of 6 and save 10%
Course of 10 £270.00
To see our bespoke treatments that combine CACI with our other facial machines that deliver only the best results, please click here.
Are you ready to book? Don't forget you will need to book in for a consultation first if you have not had a facial with us before. Click here for more information. Receive 15% off your first online booking by clicking here. Don't forget we offer course options too – ask your Therapist about our great savings!
The CACI Synergy is our latest and most advanced facial system that has been shown to reduce wrinkle depth by up to 75% and improve skin elasticity by up to 88%. It offers a variety of exclusive technologies including our unique S.P.E.D® Dual Action Technology, that provides simultaneous skin rejuvenation and facial toning.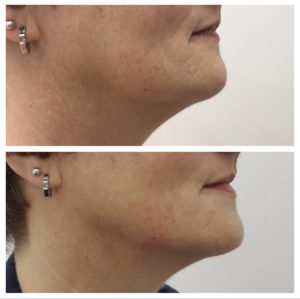 This client had a course of 10 Jowl Lift, you can see the definition change in that area, along with fine lines and wrinkles reduction.
For more information check out our FAQ's page or call us on 01202 299778.
Avoid touching the area for the next few hours

No make-up unless mineral make-up for the next 12-24 hours

Never use sun beds or go into direct sunlight without 

a broad spectrum SPF

Avoid abrasive treatments (waxing, exfoliators & products containing AHA's/BHA's) for the next 48 hours

Leave your products on the skin for as long as possible 

unless stated otherwise

Always follow your therapists home care regime, otherwise results will vary