Where to park?
There is restricted on road parking along the high street and outside the salon, however this is only for 1 hour and spaces can be few and far between! There are lots of residential roads off of the high street with unlimited and unrestricted parking. We would recommend either Belvedere Road or Alington Road which are both off of Heron Court Road. Once parked, head back out on to Heron Court Road and turn left when you get to Charminster Road. We are on the left, less than a minute walk away.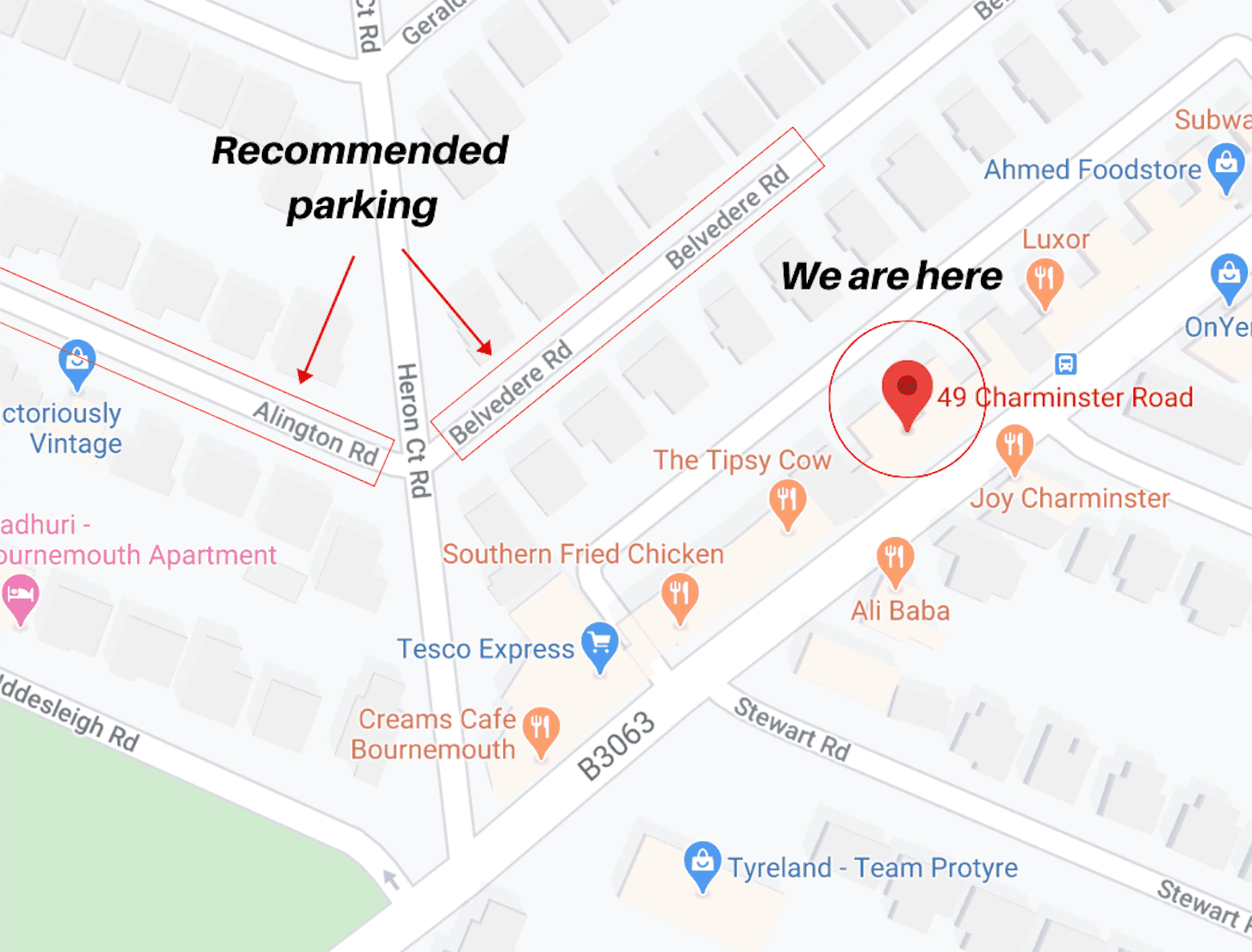 What to expect
It can be daunting if you are going to a new salon for the first time and are unsure what to expect. Please be assured we will do our upmost to make you feel welcome and comfortable no matter what treatment you are coming to us for. We are highly trained professionals who pride ourselves in client care. If you called us to make an appointment we should have made you aware if you needed to bring anything to your appointment (like a gift voucher you received), however if you booked online or still have queries please do not hesitate to give us a call to check first.
Health and accessibility
Please do let us know if you are pregnant, have any existing medical conditions or are on any medication that may effect the treatment prior to your arrival. This will allow us time to adjust the treatment if needed, or offer alternatives if the treatment is not suitable. We offer our services over two floors and there is a slight step to enter the salon, so please let us know if you need a treatment room downstairs so we can allocate correctly. We can provide a ramp for wheelchairs or for those that cannot manage our step, and we also have big double doors that open out for easy and spacious accessibility.
Consultation forms
You will be sent any relevant consultation forms via email or text 24-48 hours before your appointment. We'd recommend to fill these out on your phone as you will need to sign the form with your finger at the end. Please note we will not be able to perform your treatment unless a consultation form has been filled out correctly, this part is non-negotiable and may run into your treatment time if the forms have not been filled out prior to your arrival.
Patch test information
Click here for our latest patch test information
Our policies
Click here for our cancellation & child-free policies
FAQ
Click here for our frequently asked questions