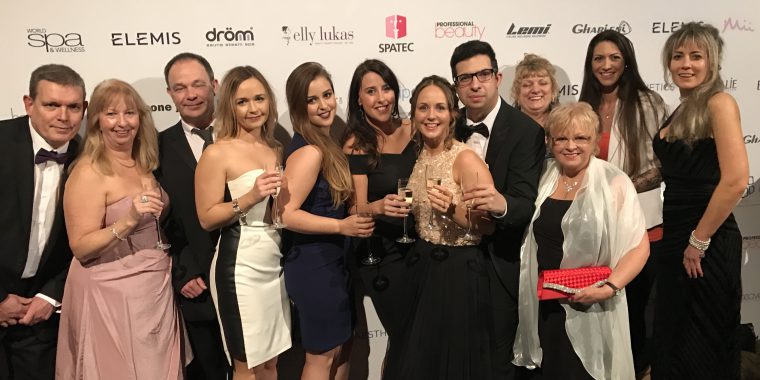 On Sunday 26th February, the very best in the beauty & spa industry were at the Professional Beauty Awards 2017, which took place at a black-tie dinner at Tobacco Dock, London.
More than 250 entries for Professional Beauty 'Salon of the Year' were received in 2016 and only a selected few made it to the finals. This award is recongised as the most respected and prestigious award in the industry and it recognises salons that stand out from the crowd and go above and beyond in customer service and expectations.
We had been put through to the finals due to winning Professional Beauty Regional Awards 'South West Salon of the Year 2016' last year. The competition was tough with some incredible Salons in the finals and although HI Therapies didn't win, the experience has been an unforgettable one! Jemma (Salon owner) says, "I'm so proud of my team and what we have all achieved. The salon is only 5 years old so to be put forward for such an incredible award like this is absolutely amazing! Its great that we have been part of this and to be recongised as one of the top Salons in the UK is incredible"
HI Therapies was founded by multi-award winning female entrepreneur Jemma Cooper at the age of 23. Jemma took over the extremely run-down business in 2011, with the ambition to turn it around and make it in to a thriving success. Jemma employs a team of all ages and backgrounds, most of who trained locally at Bournemouth and Poole College.
Jemma has also recently launched a national campaign called 'Feel Fab' which took place in January and helps those in need feel pampered. Therapists and Salons all over the UK gave up their time to work along side care homes and hospices to pamper the elderly and those with illnesses, also many events were held and free treatments were given to those who cared for these patients too. She also went to many colleges and universities and held inspirational talks to inspire and encourage the next generation of Therapists. The feedback was incredible and many have re-signed up for next years campaign.