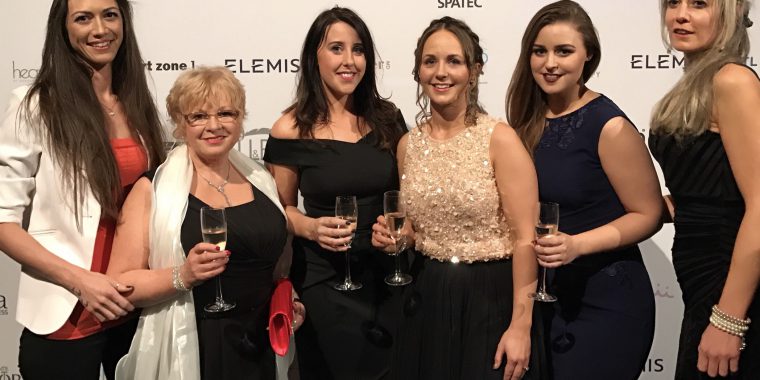 Bournemouth, 21st September 2016
Bournemouth-based HI Therapies crowned Beauty Salon of the Year South West by Professional Beauty
At a lavish awards ceremony at Manchester's stunning The Monastery, Bournemouth-based HI Therapies beauty salon beat hundreds of salons to the title of Beauty Salon of the Year South West at the Professional Beauty Regional Awards.
The Professional Beauty Awards are the most prestigious and established awards scheme for the beauty, spa, nails and aesthetics markets, recognising those who make a real difference to the industry. They recognise the salons that stand out from the crowd and deserve recognition as a world-class player in the beauty and spa industry.
A panel of independent industry experts judged all the finalists before mystery clients put them all through their places experiencing treatments and reporting back to the expert judges. Mark Moloney, Managing Director of Professional Beauty comments, "the British beauty industry is world renowned. To be a winner is a huge achievement and the judges said this category was full of outstanding beauty salons, making it a particularly tough one to judge. We salute them in their success and wish them all the best for the Professional Beauty Awards next year".
HI Therapies was founded just five years ago by multi-winning female entrepreneur Jemma Cooper at the age of 23 after completing a BSc Hons degree in Complementary Therapies at Cardiff Metropolitan University.
After being new to the industry and self-employed for just a few months, Jemma jumped at the chance to own her own salon. She immediately brought a loss-making business in 2011 and rebranded it turning it into a success and a profitable business in her first year.
Paul Beatty Co-Owner for Beauty at the Gate, 2016 National Winner of Beauty Salon of the Year for Professional Beauty, judged the region and commented "Your story of turning the business around and the respect you enjoy from your staff was a major factor in your winning the award. You are covering nearly everything you need to be in terms of what you do and offer."
The team of twelve deliver outstanding treatments from tailored anti-ageing facials to their own signature Mix and Match Massage. Using some of the biggest brands in the industry from CACI to Environ, Lash Perfect, HD Brows, Jane Iredale, CND, St Tropez and their own personal brand JemmaCo.
Collecting the award salon owner, Jemma Cooper said "I can't believe we've won! The salon is only five years old so to be recognised in the industry this early on is amazing! All I aim to do is help and inspire people in the salon, whether it's my team or clients so to win this feels like a great achievement. I would like to thank my team, we are like a family and I'm so proud of them"
The category was sponsored by Katherine Daniels Cosmetics and its co-founder, Donna Tait commented "Professional Beauty Awards is all about the salons and the wonderful people who commit and dedicate themselves to pleasing their clients. Without people like Jemma, we wouldn't have a business! A very deserving winner!"
As the excitement of winning takes hold, it's only the start of the journey as they are now automatically entered into the National Professional Beauty Awards, held in London in February 2017.